Ever heard of swimming pigs Bahamas? You would like to know that there is a beach on this planet with lots of pigs swimming around and are called swimming pigs of Bahamas.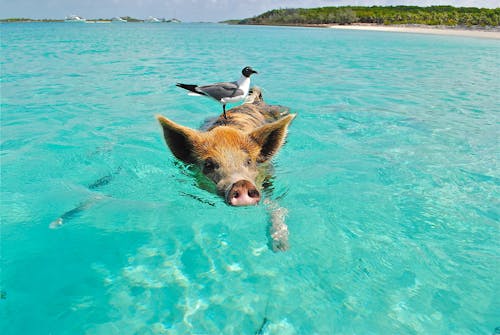 Pig beach is an island located on the big major cay in the Exuma, Bahamas. This is an unpopulated beach and famous for a colony of feral pigs that lives and swims there as its unofficial name shows pig beach. These pigs are called 'swimming pigs' as they swim in the water and there are many beaches in the Bahamas containing swimming pigs. It has now become a tourist attraction cause people to find it great to see pigs swimming and can also swim with them.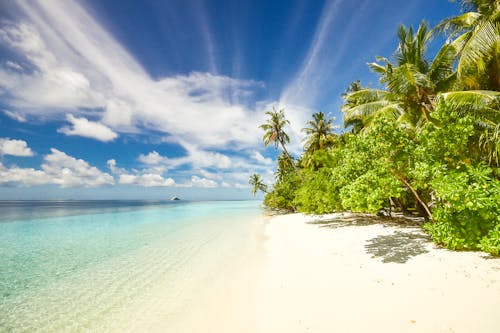 Exuma is a district of the Bahamas containing more than 360 small islands, step onto the white sand beaches of Exuma with a lot of small beaches and sleepy cays and you will get the feeling like you are the first one to discover this corner of the world. Its beaches are so beautiful soft white sand beaches with turquoise water of the Caribbean sea that every time you visit the water surrounding you are gonna observe a different shade of water, palm trees swaying all around the island. This pig island is not big like it's just a mile long and you can traverse the whole island in an hour or two. And when you reach the big major cay you gonna see some loud, snoring pigs paddling on the beach and when you reach there they will rush to you like some golden retrievers who run to the door when their owner comes home at night.
Existence of pigs
Till now, no one could tell the facts of how those pigs managed to get there because they are not the native of that island but many folklore and various theories are famous about those pigs in that area. Different scenarios are famous such as pirates. Some of the people say that these pigs came here with a group of sailors who wanted to cook and eat those pigs but those sailors never returned and these pigs managed their food from the island or from the excess food dumped from passing ships.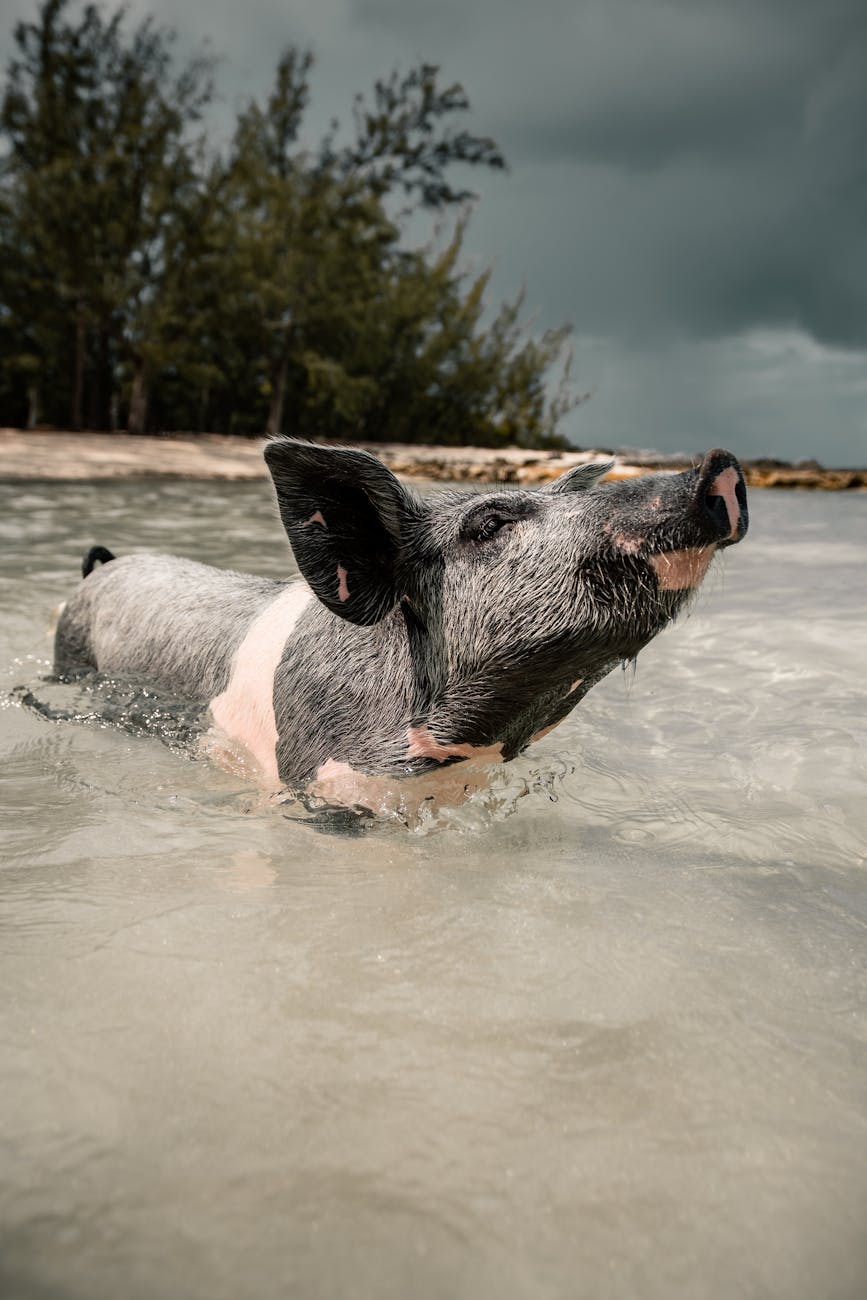 Some say that these pigs came from a nearer islet and some say that they are the survivors of a shipwreck and managed to swim to the beach and stayed there. It is also said that these pigs are sent there according to a plan to increase tourism while some claim that these pigs were left here by the people of nearby islands for the increase of food.
Food supply
These pigs are now fed by the locals or people from the neighboring island and also the tourists. In February 2017 several pigs were found dead on the island and after the inquiry, it was found that the cause of their death was sand ingestion and also that tourists fed them alcohol.
As this place has become a tourist attraction and is now this island is also famous as 'pigs island'. These visitors are now fixtures to the island and these are mostly abandoned foraging in the forest in search of food and they mostly rely on the food that tourists throw on them and from the boat or shore and these pigs consume sand with that food that is a leading cause of their death and also the depletion of freshwater is a cause of their death. Many healthy pigs were shifted to other places for their better growth and many sunbathers are still enjoying and swimming with pigs on that beach.
In the Bahamas, swimming pigs are friendly and show a loveable attitude but be aware of them as they can get aggressive when it comes to getting food. Before you feed those pigs learn some basic antiquates to avoid getting hurt by the pigs like to show your empty hands as a sign of no food. Experts also say that they do not give them food on the beach as they are gonna think that they will get all their food from human hands on the beach which will destroy their instinct of survival and getting food from the surroundings.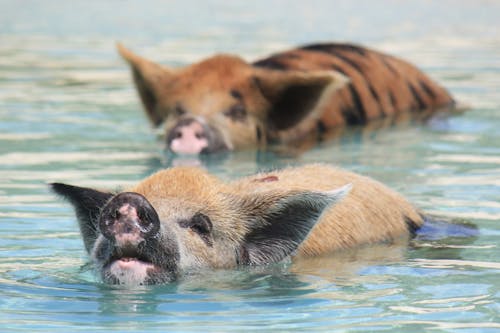 Do not feed the pigs with hands make sure that the food is away from your hand before reaching the pigs as they could bite your hand and do not feel them anything else than the suggested or approved food for them. In that regard, you can take guidance from the locals on what you should feed the swine. Approved food includes bread, fruits, and other natural foods.
Popularity
The swimming pigs have become very popular these days on social media and they were also broadcasted on television after that the number of tourists has increased on that island. And many people are still looking forward to visiting that island and swimming with those pigs. If you wanna visit the famous pig beach you can travel on a fairy, motorboat or with a private plane that will bring you to the island from a large distance such as Nassau. Fort Lauderdale, and Miami. If you are on a one-day vacation you should avoid taking the ferry to reach there as it takes almost 6 hours according to weather conditions while the plane can get you there in just an hour.
Some of the visitors also claim that those pigs also bite while swimming with them. They have mentioned that in a book or also in a documentary. More than 50 pigs were estimated on the Exumas island besides that many wild cats and dogs are also found on that island. If you look around in the water you can also see other sea animals like sea tortoise and even reef sharks.
Frequently asked questions (FAQ)
All of your queries related to swimming pigs Bahamas are resolved in this section.
Q.1 Can you swim with pigs in the Bahamas?
Yes, you can swim with the pigs but after taking all the necessary precautions. In the Bahamas, there is an island called 'Pigs Island' in its district Exumas. You can get there easily and can get a chance to swim with the pigs
Q.2 What happened to the swimming pigs in the Bahamas?
According to a recent survey, around 50 pigs are currently living on the 'Pigs island'. In 2017 several pigs were found dead on that island and after inquiry, it was found that the reason for their death was sand ingestion, and also some tourists fed them alcohol.
Conclusion
Swimming pig Bahamas is a Pig beach is located on the big cay in Exuma, the Bahamas where around 50 pigs are living and getting their food from the surroundings and now also from the tourists. These pigs can swim and that's why they are called swimming pigs. This is a beautiful island with white sand and also with turquoise water and palm trees all around. You can get to that beach on a fairy, boat, or a private plane. You can also swim with the swine on that beach and can also feed them the food but the food that is approved for them. They may show friendly behavior but be aware of them as they can be aggressive and do not feed them with hand otherwise they can bite you. Swimming pigs have been popular over social media and on Tv in recent years. Other animals are also found on that beach such as cats and stray goats. Enjoy your swimming with pigs in the Bahamas.